Roof rakes - if you don't know what one is then I don't know if we should talk, at least not until spring.
Spring - yes I know it's here. Is it possible that the weather man or woman doesn't get the fact that it's spring? Has no one spoken to Mother Nature? The snow is not going away. It's not budging. In fact I believe it might be mocking me.
Okay, possibly not.
But...
It snowed again last night and the night before that and...Spring is a date that is out of whack with reality. The front steps are invisible from the driveway due to a mountain of snow. I'll have side of snow...I meant slaw. No really I didn't ask for this!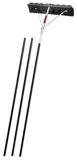 In roof rake land - we stay young forever, oops, no I meant we have snow forever.
Roof rakes - well if you don't know what one is then I'm not sure I want to talk. I suspect you're harbouring good weather. I suspect... oh, never mind. One day you'll ask me what a toboggan is and that is some fun that can't be had in good weather. Definitely a lot more fun than a roof rake. Did I mention my last bottle of suntan lotion dried up but I have a spare toque if anyone needs one?
Spring is here and there's nothing to see but snow
Roof rakes, I didn't know what one was either until two years ago. Then they made an appearance, filling the shelves in the local Canadian Tire, being snapped up by tens and then hundreds and then... Well, now you can't go on a walk in winter without seeing a roof rake in action.
They're used to get snow off roofs and are great for people that don't actually want to get on the roof. Although there are many intrepid souls that crawl right up there and start shoveling, my DH for one. Interestingly enough, it's only men that I see on the roof with a shovel, the occasional woman, well she's bravely manning the roof rake from the mid-rungs of a ladder. Is it possible, that the last domain of man is the roof?
So I'm leaving now without a single answer. But Monday, maybe I'll ponder it some more while remembering a place where there's no snow, Borneo.
Monday I'm over on another trail and taking my latest book,
Fatal Intent
, a romantic suspense set in the Borneo rain forest, with me. I'll be at
Read Your Writes Book Reviews
all day. It's all part of Fatal Intent's tour. Stop by - leave a comment and be entered to win a a copy of my book, From the Dust and also be entered for a chance to win the grand prize at the end of the tour. And I checked it out - there's no snow at Read Your Writes!
So roof rakes on the prairies - any oddities in your part of the world? Leave a comment or come on by to
Read Your Writes
on Monday - Let's talk!
Ryshia
www.ryshiakennie.com